Featured Image // Agnostica
As vacation looms, I'm getting more and more excited. One week until I can sit on the beach, stick my toes in the sand and relax! It also has me thinking about swimwear with a lot more vigor. I love getting toasty laying on the beach (with sunscreen, of course) and getting to run around in little other than a bathing suit, a cover up and some flip flops.
I used to buy bathing suits at Old Navy and Target religiously, but in past years I've been stepping up the quality of my swimwear. I find that spending a little bit more promises years of wear rather than the less expensive brands that tend to fade or get stretched out easily. On top of that, because I am spending more on them, I take extra care after each wear:
1. Rinse your bathing suit right after changing out of it
After a long day on the beach, your suit is full of sand, salt and possibly chlorine. This will help the fabric stay stretchy.
2. Wash it by hand
Strong detergents can be hard on your delicate bathing suits, so it's better to wash by hand with a color-safe detergent. Everything But Water sells special swimwear cleaner ($7) that helps remove chlorine and keeps colors bright.
3. Hang it to dry inside
As much as I love leaving my bathing suit hanging outside to dry in the sun, this can end up leaving you with a faded suit. Hang it up in the bathroom to keep it away from the sun's rays.
MY SWIMWEAR PICKS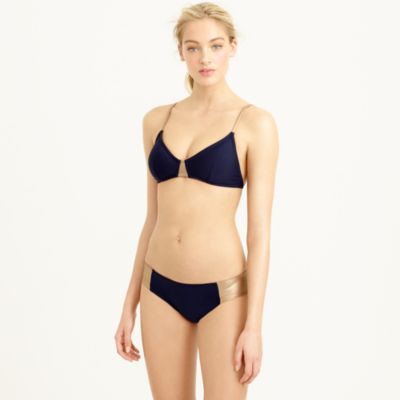 J.Crew Metallic Colorblock French Bikini Top $58 $41
J.Crew Metallic Colorblock hipster Bikini Bottom $50 $35
code SHOPNOW
Total: 
$76
Melissa Odabash Martinique Bandeau Bikini $190 $95
Total:
$95
T by Alexander Wang Triangle Bikini Top $150 $75
T by Alexander Wang Low-Rise Bikini Briefs $125 $63
Total:
$138
Zimmermann Essence Peak Bikini Top $160 $112
Zimmermann Essence Peak Bikini Bottom $100 $70
Total:
$182
XO
Amanda