I have been wanting a bar cart for quite some time. You can't browse Pinterest without seeing a few pretty picks. Last week, I came across the ultimate steal – this gorgeous gold-glass-and-wood bar cart from the Threshold line at Target, which is usually $130, was on clearance for just $65! I couldn't resist (even though Eric made a strong point for us having very little room for it… oh well!).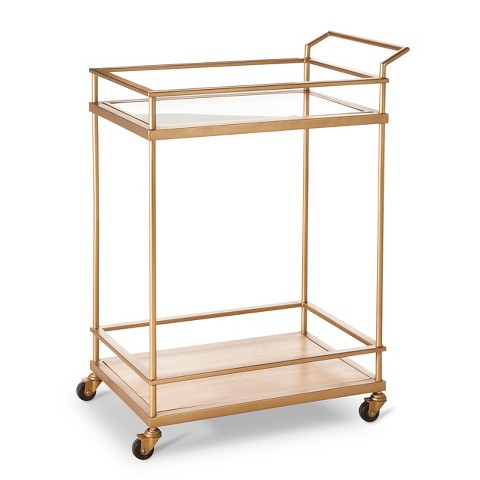 I'm so excited to style it, and I'm looking around for gorgeous inspiration. See some of my inspired looks below!
Which is your favorite?
I love the pink and gold color scheme in this! Having the gold-leaf glasses steps the look of this bar cart up.
This is a bit more masculine, which is a good thing when you're sharing an apartment with your boyfriend! I love the different glasses, and the pop of coral with the ice bucket.
The additional storage on this cart makes it a winner – hanging glasses and bottles make lots of extra room. The bowl of fruit for cocktails is always a good idea!
The color coordination on this is perfection! Pretty matching napkins and straws make for fun little accessories.
Flowers are always a good idea, and how cute is that gold clock?
I'm a huge moscow mule fan, so these copper mugs definitely caught my eye! Bringing in some gold with a faux bamboo frame with a fun print makes this IKEA hack look even more chic.
This cart looks classic yet updated – the record player adds to the vintage vibe.
The more storage, the better. I love the wine rack, and the crystal decanter adds a touch of luxury!
XO
Amanda
Featured Image | Better Homes and Gardens