We made it – it's finally Friday. I had a pretty uneventful week, mostly filled with work and some online shopping here and there. I tried a new gym class, picked up a couple of new items and found a new hairstyle to try out…
RAINY DAY PICK-ME-UPS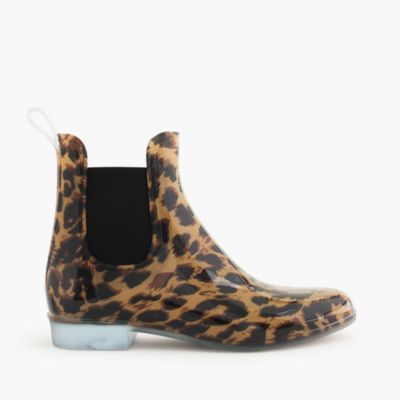 While the weather is warming, we're still getting tons of precipitation in Maryland. Hence the need for cute rain attire. I bought these J.Crew Chelsea Leopard Rain Boots and I'm in love! It seems that they were simply made for easy walking. The short height make these the perfect boots for running around town on a rainy day. They are originally $68, but they're on sale for $25 (code SALELOVE). They also come in navy and safari in limited sizes if you're looking for a more classic pair.
THE SEASON OF ICED COFFEE
Iced coffee is by far my favorite way to drink the delicious caffeinated beverage, but it's always been an expensive habit. Thankfully I've discovered that Starbucks is now offering Brewed to Personalize Iced Coffee, and you can pick it up at your nearest grocery store for about $5. It gives you about six 8-ounce servings, equaling out to about $0.83 a cup. Much more affordable than the $2 I'd usually spend on a cup in-store!
WORK YOUR BODY
I have always heard of the wonders of Pilates from friends, magazines and celebrities, but I had never tried it out. My gym offers free classes so I decided to give it a go. Let me tell you – it's basically yoga with a little extra burn and much quicker results! My abs were feeling the pain the day after, and I was happy to feel some improvement in my core strength even after one class.
HAIR ENVY
It's no secret that I love Kiernan Shipka, and I just adore her hairstyle. I cut my hair a bit shorter than I've had it in a long time and I've been trying to find pretty ways to style it to maximize the new cut. This insta from Kiernan shows off a great deep side part that I love!
XO
Amanda