This weekend we had a big (I know this is all relative, but it was big for Maryland) snow storm hit. Eric and I had fun going outside and playing with his puppy in the snow, but we didn't last too long. With the dry, cold air wreaking havoc on my skin, hair and lips, I was on the hunt to find the best products to keep me from reapplying lotion every two minutes or staying completely bundled every second I  spend outside. I am hoping that I won't have to use these products much longer (hello, March!), but I might just end up continuing to use them all the same because of their magical powers of hydration.
Smooth Sexy Hair Encounter Blow Dry Crème $18
Travel Size $4
This stuff is amazing for keeping my hair moisturized. I have had flyaways and frizz for as long as I can remember, especially after styling with a high-heat blow dryer and straightener. I've noticed a huge difference when I put a dab of this cream infused with coconut oil on my locks before drying. My hair is left soft and smooth. If want to try it out before committing to a large bottle, try the travel size.
Neutrogena Oil-Free Moisture – Sensitive Skin $10
This is the most lightweight-yet-still-moisturizing face lotion I have found. I have combination skin (T-zone stays oily while my cheeks and forehead get very dry), so it can be hard to find a good face lotion. I tried the Olay Total Effects moisturizer ($20), but it left my face feeling a bit too greasy. This Neutrogena pick is the perfect middle ground.
Aveeno Skin Relief 24-Hour Moisturizing Lotion $10
I get very itchy arms and legs in the middle of winter and there's nothing to do about it other than moisturize. This Aveeno body lotion is the perfect balance between heavy and light; it absorbs quickly, but keeps my skin feeling soft.
L'Occitane Shea Butter Hand Cream $12 for 1 oz.
This may be a little pricy, but it's worth the splurge. I've never found another lotion that helps heal everything from cracked hands in the winter to sunburn in the summer so well. The 1 oz. size is perfect to throw in your bag for on-the-go.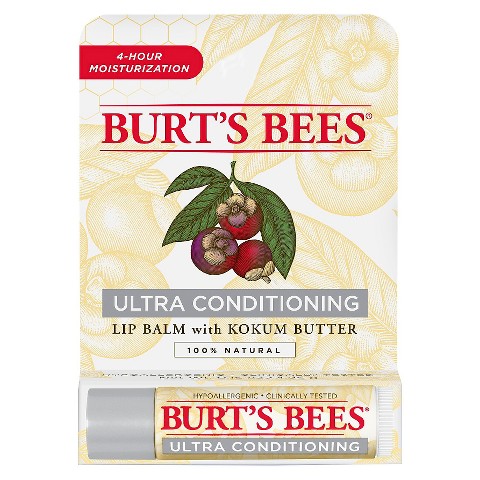 Burt's Bees Ultra Conditioning Lip Balm $3
I admit it – I'm a slave to advertising. A coffee shop promises the world's best coffee? I'm there. You say this lip balm is ultra conditioning? Well, it just must be. Thankfully this product kept its promise. Unlike the other Burt's Bees lip balms, this one is glossier and absorbs into your lips faster, keeping them hydrated and soft.
XO
Amanda